Everest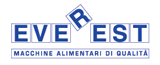 From Italy, Everest products are of the highest quality: built using the latest technology and with safety, attention to detail and innovation in mind.
Everest's meat mincers, graters, sausage filler machines and band saw machines have all been developed to meet any food processing requirement while being cost-effective at the same time.
For the past 40 years, Everest has been offering high-quality food service machines backed up by excellent customer service and a reputation for reliability.
No products to show