Anvil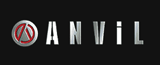 Anvil is a leading South African manufacturer of a selective range of plug-in, easy-to-use, industrial food service equipment. Based in Johannesburg, they distribute their products all over the world.
All Anvil equipment is build to the highest quality standards, using mainly European components in their machines.
From deep fryers to waffle makers, rotisserie ovens to hot plates, they supply the food service industry with equipment that assures the customer of consistent, reliable and easy-to-use products. Central to their philosophy is that the customer should always be able to make fast and easy profits out of the equipment that they invest in.